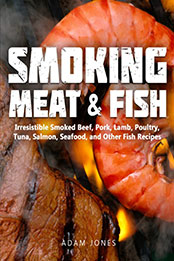 Title: Smoking Meat and Fish: Irresistible Smoked Beef, Pork, Lamb, Poultry, Tuna, Salmon, Seafood, and Other Fish Recipes
Author: Adam Jones
Pages: 135
Publisher (Publication Date): ‎ Independently published (May 28, 2022)
Language: English
ISBN-10, ISBN-13 or ASIN: B0B2J8444J
Download File Format:EPUB
Smoking Meat and Fish
The ultimate smoker cookbook for mastering beef, pork, lamb, poultry, tuna, salmon, seafood, and other fish recipes. An essential cookbook with clear instructions and step-by-step directions for every recipe.
Sample recipes:
Coriander Rub Smoked Beef Tenderloin with Red Wine Sauce
Glazed Smoked Pork Ribs BBQ with Cinnamon Honey
Smoked Tuna Fillet with Balsamic Sauce
Smoked Lobster Tails with Lemon Parsley Seasoning
The book includes for making your job easier:
photographs of every finished meal
temperature charts
smoking meat chapters
sauces chapter
The complete cookbook will help you keep the culinary tradition of smoke cooking alive and will remind you that smoking food is one of the most ancient and most cherished cooking traditions!