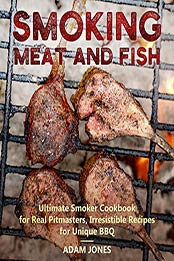 Title: Smoking Meat and Fish: Ultimate Smoker Cookbook for Real Pitmasters, Irresistible Recipes for Unique BBQ
Author: Adam Jones
Pages: 116
Publisher (Publication Date): May 20, 2020
Language: English
ASIN: B0891ZBT9F
Download File Format: EPUB
Smoking Meat and Fish Cookbook By Adam Jones
The ultimate bbq cookbook for smoking meat and fish, this cookbook will help professionally smoke a variety of food, including beef, pork, lamb, poultry, tuna, salmon, seafood, and other fish. The book includes photographs of every finished meal, temperature charts, helpful tips and tricks on making BBQ and SMOKING MEAT to make your job easier. Whether you are a beginner meat smoker or looking to go beyond the basics, the book gives you the tools and tips you need to start that perfectly smoked meat.
Here are some recipes that you can find in the book:
Cinnamon Peach-Glazed Sweet Smoked Beef Brisket
Maple Mustard Glazed Smoked Pork Shoulder
Juicy Smoked Lamb Ribs with Apricot BBQ
Minty Cherry Smoked Chicken Wings
Smoked Tuna with Orange Lemon Marinade
Lemon Butter Juicy Smoked Salmon
Beer and Lemon Smoked Scallops
Tea Smoked Sea bass with Simple Sweet Sauce
Ultimate cookbook will help you keep the culinary tradition of Smoke cooking alive and will remind you that smoking food is one of the most ancient and most cherished cooking traditions!