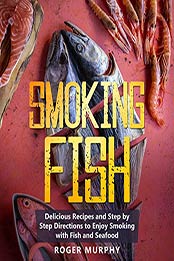 Title: Smoking Fish: Delicious Recipes and Step by Step Directions to Enjoy Smoking with Fish and Seafood
Autor: Roger Murphy
Pages:
Publisher (Publication Date): October 22, 2019
Language: English
ASIN: B07ZHMGGYC
Download File Format: EPUB
Smoking Fish: Delicious Recipes and Step by Step Directions to Enjoy Smoking with Fish and Seafood: By Roger Murphy
The ultimate how-to guide for smoking fish and seafood, use this complete guide to smoke all types of fish, seafood, tuna, trout and salmon. An essential cookbook for those who want to smoke meat without needing expert help from others. Offers detailed guidance obtained by years of smoking fish, includes clear instructions and step-by-step directions for every recipe.
Include such recipes as:
ALDER SMOKED HALIBUT IN WHITE WINE
CRUSTED SMOKED HALIBUT WITH SESAME MAYONNAISE
MUSTARD AND FENNEL RUBBED SMOKED TROUT
SMOKED SALMON MOUSSE APPETIZER
VODKA-BRINED FRESH WILD SMOKED SALMON
LOBSTER TAILS IN GARLIC BUTTER
MESQUITE SMOKED CRAB LEGS
LEMON SMOKED TUNA
MAPLE SMOKED TUNA
The book includes photographs of every finished meal, helpful tips and tricks on smoking fish, making BBQ and SMOKING MEAT to make your job easier. Whether you are a beginner meat smoker or looking to go beyond the basics, the book gives you the tools and tips you need to start that perfectly smoked fish.