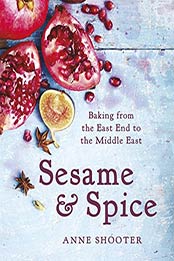 Title: Sesame & Spice: Baking from the East End to the Middle East
Autor: Anne Shooter
Pages: 256
Publisher (Publication Date): Headline Home (February 26, 2015)
Language: English
ISBN-10: 1472223608
Download File Format: EPUB
Sesame & Spice is an absolute treat; full of warmth and generosity, and so many recipes I want to cook, that I've been headily immoderate with my post-it notes! – Nigella Lawson
this is one of the most EXCITING cookbooks I've seen in a long time – Sabrina Ghayour
Cinnamon, honey, dates, almonds, apples and pomegranate – these are all flavours that we have grown to love and, here in this stunning book, Anne Shooter has created cakes and bakes that celebrate these wonderful ingredients.
Anne has always been inspired by her Jewish family – her grandmothers, mother and aunts who baked honey cake, almond cookies and cinnamon balls, challah bread and cheesecakes.
In Sesame & Spice, she gives these recipes a very modern interpretation to create her own collection of bakes for every occasion. A cinnamon coffee cake from the US via Eastern Europe, an apple and blackberry traybake, pomegranate drizzle cake from Jerusalem, flourless chocolate, pistachio and walnut brownies and a chocolate challah bread and butter pudding. But this is evolution, not revolution, and Anne has also kept precious family recipes for tahini cookies, smoked haddock pastries and the bagels and rye breads from her childhood.
If you love baking, these recipes will take you on a delightful, delicious journey.