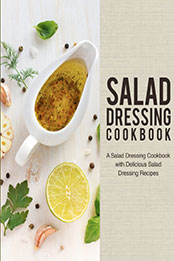 Title:Salad Dressing Cookbook: A Salad Dressing Cookbook with Delicious Salad Dressing Recipes
Author: BookSumo Press
Pages: 104
Publisher (Publication Date): CreateSpace Independent Publishing Platform (August 10, 2018)
Language: English
ISBN-10, ISBN-13 or ASIN: 1724955330
Download File Format:EPUB
Make your own Salad Dressings.
Get your copy of the best and most unique Salad Dressing recipes from BookSumo Press!
Come take a journey with us into the delights of easy cooking. The point of this cookbook and all our cookbooks is to exemplify the effortless nature of cooking simply.
In this book we focus on Salad Dressing. The Salad Dressing Cookbook is a complete set of simple but very unique Salad Dressing recipes. You will find that even though the recipes are simple, the tastes are quite amazing.
So will you join us in an adventure of simple cooking?
Here is a Preview of the Salad Dressing Recipes You Will Learn:
4-Ingredient Sweet Vinaigrette Dressing
Cookout Mayo Dressing
Marjorie's Vinaigrette
Hot Dragon Dressing
Southwest Avocado Blend
Friendship Dressing
Dijon Caper Dressing
Sweet Balsamic Dressing
Palmdale Paprika Mustard Blend
London House Dressing
Grecian Garden Blend
Minced Shallot Dressing
Sakura's Dressing
Simple European Blend
Taco Valley Dressing
Honey Poppy Seed Blend
Garden Parsley Dressing
Mid-November Blend
Tropical Garlic Dressing
Hermosa Beach House Blend
Greek Dressing for Parties
Lemon Paprika Dressing
University Ave Dressing
Lemon Mint Blend
Much, much more!
Again remember these recipes are unique so be ready to try some new things. Also remember that the style of cooking used in this cookbook is effortless. So even though the recipes will be unique and great tasting, creating them will take minimal effort!