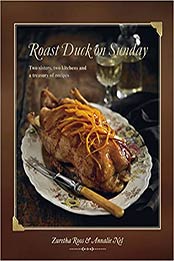 Title: Roast Duck on Sunday: Two Sisters, Two Kitchens and a Treasury of Recipes
Author: Zuretha Roos, Annalie Nel
Pages: 192
Publisher (Publication Date): Random House Struik (March 15, 2012)
Language: English
ISBN-10: 1770078983
Download File Format: EPUB
The sisters Annalie Nel and Zuretha Roos grew up in the lovely Hex River Valley where their great-great-grandfather settled as a farmer during the middle of the 19th century. They have enduring memories of Ouma Sannie's farm kitchen and the food and lavish dinners she prepared. Their mother was a splendid cook and had a wide repertoire of dishes, some of which are included here. One of her pièces de résistance was her succulent, roast Muscovy duck, served as a fortnightly Sunday feast with crispy potatoes and home-grown veggies. The sisters fondly remember the golden-brown bird that adorned their Sunday dinner table.
With these culinary doyennes preceding them, it's no wonder that an enthusiasm for food is embedded in their genes. Annalie prefers the more traditional, family recipes and is the custodian of the heirloom recipes, while Zuri tends to experiment with new tastes. Their differing approaches to food ensure that Roast Duck on Sunday includes a wide variety of sumptuous recipes, from comforting soups and traditional roasts to zesty salads and surprisingly simple desserts.
Home cooks who are looking for new ideas or more traditional, family recipes will find the recipes in this book, which range from super simple to the more outlandish, a welcome change. The authors' chatty style of writing and personal anecdotes will enable the reader to fully engage with the book.