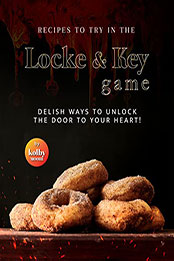 Title: Recipes To Try in The Locke & Key Game: Delish Ways to Unlock the Door to Your Heart!
Author: Kolby Moore
Pages: 86
Publisher (Publication Date): March 18, 2022
Language: English
ISBN-10, ISBN-13 or ASIN: B09VZ7P542
Download File Format:EPUB
Locke & Key is a 2020 American horror and fantasy series created by Aron Eli Coleite with Carlton Cuse, and Meredith Averill and themed on Gabriel Rodriguez & Joe Hill's same name series of comic-book. On February 7, 2020, it debuted on Netflix.
Patrice Jones, Darby Stanchfield, Jackson Robert Scott, Connor Jessup, Griffin Gluck, Emilia Jones, and Layla De Oliveira, are among the cast members of the show. Netflix confirmed in March 2020 that the show was going in for a second season, which got released soon after in October 2021. After the second season, in December 2020, the series renewed again for the third season, which will air in 2022.
The Locke & Key-a feast for Locke Siblings while exploring the Key house is a cookbook devoted to IDW Publishing's comic classic Locke & Key, produced by Joe Hill and displayed by Gabriel Rodriguez.
Since 2008, Joe Hill's comic has always been a fan favorite and sold out on the first day of release and reviving seven volumes and a fresh new series which is World War Key. The events of Locke & Key revolve around the Locke family, who have evacuated to their ancestral home, Key house Manor, directing their father's murder and the discovery of the magical keys.
Here are a few recipes based only on Locke & Key characters, settings, and plots. Friends and relatives will remember your celebration if you serve these distinctive and original foods. Every one of these recipes is as tasty and amazing as the series. They're simple to create, and the majority of the components are likely to be found in your kitchen. If you haven't seen this incredible series yet, now is the time to do so with these recipes.