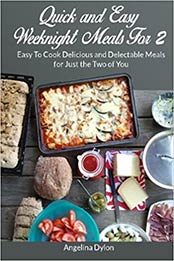 Title:Quick and Easy Weeknight Meals For 2: Easy To Cook Delicious and Delectable Meals for Just the Two of You
Author:Angelina Dylon
Pages:50
Publisher (Publication Date):CreateSpace Independent Publishing Platform (April 2, 2014)
Language: English
ISBN-10, ISBN-13 or ASIN:1497529352
Download File Format:EPUB
Enjoy a dinner date with your partner every night with these delicious meals! Weeknights meals are indeed special. It is the time when you are your partner gets time, after a long day at work, to exchange anecdotes and tell each other about your day. Going out or ordering food every night is not an option because no matter how delicious the food is, it is definitely going to burn a hole in your pocket. This is the reason why we have compiled for you some quick and easy dinner recipes that you can prepare in no time. Not only will this give you an opportunity to eat in the peace of your home but it will also allow you the satisfaction of cooking for your spouse. This book is a must buy for couples who enjoy a delicious and fulfilling meal after a long day at work. These recipes are not only going to tantalize your taste buds but will also make your dinners events to look forward to. Nothing can be more romantic than sharing a delicious meal with your partner. In this book you will find: 1. Simple recipes that are easy to prepare and delicious in taste. 2. Nutritional information to help you stay healthy and eat well at the same time. 3. Cooking time so that you can plan your day ahead of time. 4. It includes seafood, chicken, beef, and pasta recipes so that you can cook what you are craving for. If that was not enough, the recipes added in this book are not only delicious but also very easy to cook, which means that now you can prepare meals for your loved ones without having to spend your entire day in the kitchen. We bet that after trying out these recipes, each dinner will turn into a dinner date for two. Say goodbye to waiting in restaurants or the delivery guy and say hello to relaxed and fun filed dinners with your partner. Continue reading and try out these recipes tonight and give your spouse a pleasant surprise with your amazing culinary skills.