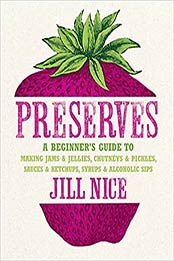 Title: Preserves: A Beginner's Guide to Making Jams and Jellies, Chutneys and Pickles, Sauces and Ketchups, Syrups and Alcoholic Sips. b
Author: Jill Nice
Pages:
Publisher (Publication Date):Collins (August 1, 2011)
Language: English
ISBN-10: 000742079X
Download File Format: PDF
This beautifully illustrated, practical and easy-to-use guide provides a wealth of ideas for making delicious preserves and drinks from over fifty fruits and vegetables.
There is no comparison between shop-bought preserves and those you can make at home. With the most basic equipment, a little time and some fresh home-grown or bought produce you can make a jam, pickle or drink that's totally unique, incredibly delicious and inexpensive. Whether you want to savour the taste of your summer tomatoes all year round, treat your friends and family to the most thoughtful presents or are looking for a way to control what's in yours and your children's food, this book will show you how.
In this definitive guide, author Jill Nice covers all aspects of preserving. She takes readers step-by-step through the preserving process, including choosing the right jars and containers, utensils and equipment; cooking with sugars and setting ingredients; and safe, easy sterilising. This book will also contains both traditional and modern preserving techniques, store cupboard cheats and lots of handy tips and advice.
From the most well known and loved fruit and vegetables like strawberries, chillies and blackcurrants to more unusual ones like okra and pomegranate you will find recipes for jams, ketchups, pickles, cordials, conserves, jellies. curds and much more!
Inspired recipes, reliable advice and fail-safe instructions – all in Jill's engaging, down-to-earth and inimitable style. This is the only book on preserves you need on your shelf.
Examples of just some of the things Jill will show you how to make with gooseberries…
Basic Gooseberry Jam
Gooseberry and Apricot conserve
Gooseberry and Elderflower Jelly
Spiced Gooseberry pickle
Gooseberry Muscatel Syrup