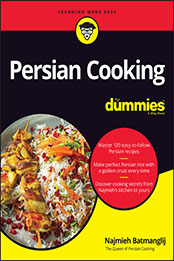 Title: Persian Cooking For Dummies
Author: Najmieh Batmanglij
Pages: 299
Publisher (Publication Date): For Dummies; 1st edition (July 25, 2022)
Language: English
ISBN-10, ISBN-13 or ASIN: 1119875749
Download File Format:EPUB
Taste Real Home-cooked Persian Food for Breakfast, Lunch, and Dinner
The most celebrated Persian chef in America, Najmieh Batmanglij brings you her favorite traditional, healthy Persian dishes, simplified for modern American kitchens. Persian Cooking For Dummies, written for cooks of all skill levels will transform the way you cook. Offering more than 100 recipes, some of which can be made in less than an hour, this book will guide you through the art and craft of one of the world's oldest, yet least known culinary, traditions in the West. These flavors and aromas are rarely replicated in restaurants, so prepare to be wowed by your own creations as you follow these easy guidelines in the warmth and comfort of your own kitchen. The distinctive herbs, the heavenly aromas of saffron and rose water, and the sweet and sour flavors will impress your guests and delight your family.
Prepare kababs, braises, golden-crusted, tah-dig rice dishes, and delicious desserts
Learn the tricks and techniques that have been perfected over thousands of years
Enjoy the unique aromas and flavors of the food of Iran—right in your own home
Learn the history of Persian cooking and access a glossary of Persian culinary terms
Many recipes are one page, simple to follow, and take less than an hour to make.
Adapted for today's lifestyle, Persian Cooking For Dummies is perfect for experienced and novice cooks alike. Take a journey through this exotic cuisine and get cooking, with Dummies.