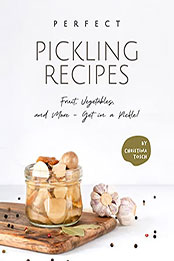 Title: Perfect Pickling Recipes: Fruit, Vegetables, and More – Get in a Pickle!
Author: Christina Tosch
Pages:
Publisher (Publication Date): June 18, 2021
Language: English
ISBN-10, ISBN-13 or ASIN: B097JZQH63
Download File Format:EPUB
Summer, winter, or fall, you will be surprised at the list of foods you can pickle!
From cherries to cauliflower, tofu to turnips, and mushrooms to mussels, there aren't many foods that aren't perfect when pickled!
Pickling is a great way to preserve and store extra seasonal fruit and vegetables. Better yet, homemade pickles are a lot healthier and tastier than any you can buy from the grocery store.
If you want to get in a pickle and make sure those taste buds are tingling, check out our perfect pickling recipes, including:
Balsamic Vinegar Pickled Apples
Homemade Pickled Kalamata Olives
Pickled Melon Balls
Pickled Peaches with Cinnamon and Cloves
Honey-Bourbon Pickled Jalapeños
Pickled Beets
Peter Piper's Pickled Banana Peppers
Sweet and Sour Pickled Fennel
Spicy Pickled Shrimp
Sriracha Pickled Eggs
Sweet Pickled Black Walnuts
What are you waiting for pickle-lovers? Get it in a pickle today with 40 perfect pickle recipes!