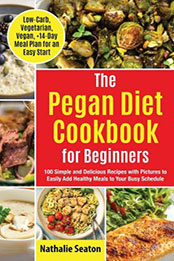 Title: Pegan Diet Cookbook for Beginners: 100 Simple and Delicious Recipes with Pictures
Author: Nathalie Seaton
Pages: 300
Publisher (Publication Date): 2023
Language: English
ISBN-10, ISBN-13 or ASIN: 9798215455098
Download File Format:EPUB
Vegan and paleo-the best of both worlds.
With the multitude of diets that claim to help you get healthy and lose weight, it can be hard to know which one to choose. Two stand out over the rest-vegan and paleo. Both have undeniable evidence showing their effectiveness, and both have scientific rationale to back them up. Once you've narrowed it down to these two, how can you possibly choose? Wouldn't it be better to do both?
The problem is that, at first glance, they seem incompatible. The paleo diet is heavy on meat and animal products, while veganism excludes all of them. What most people don't realize is that the pegan diet is a seamless way to combine the two.
The pegan diet uses both diets' positive principles rather than the restrictions, meaning it allows for the consumption of some meat while limiting whole grains, legumes, and dairy. The result is a focus on the high-protein whole foods that will help you shed pounds and feel great.
Pegan Diet for Beginners Cookbook is a reference that covers the fundamentals of the pegan diet while giving you a plethora of mouthwatering recipes to choose from. The recipes which are suitable for vegan, vegetarian, or low-carb diets are labeled in the table of contents.
Inside Pegan Diet for Beginners Cookbook, you will discover
An introduction to the vegan diet, including why plant-based foods are healthier for you
An explanation of the paleo diet and why we should look back to the ancient knowledge of our ancestors
How the pegan diet combines the two and multiplies the benefits exponentially
What you need to stock in your pantry to get started on the pegan diet
How to enjoy dining out with friends without compromising your new way of eating
Why meal prepping is the best way to stick to your diet, and the step-by-step methods you can use to do it
Breakfast and brunch recipes like healthy pancakes and chia nut pudding
Plant-based main courses like skillet kale and avocado
Vegetarian soups, salads, and snacks to start off your meals and replenish between them
Chicken and poultry recipes to up your protein and fill your belly
Fish and seafood main courses like coconut and hazelnut haddock
Beef and pork dishes to satisfy your red meat cravings
A 14-day meal plan for an easy start
100 recipes with pictures of each finished meal (hardcover has black&white interior, you will also get a PDF with colourful images of recipes)
There's no need to choose between the diets that appeal to you. The pegan diet is a flexible, easy to follow way of eating that will help you feel better than ever while also dropping pounds and inches. This cookbook is for those who want to go veggie, but can't live without meat and fish; are always looking for new, healthy recipes that are delicious and easy to make; or are trying to cut back on meat consumption and increase vegetable intake.