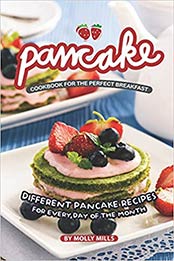 Title: Pancake Cookbook for the Perfect Breakfast: Different Pancake Recipes for Every day of the Month
Autor: Molly Mills
Pages: 91
Publisher (Publication Date):Independently published (May 26, 2019)
Language: English
ISBN-10: 107034074X
Download File Format: AZW3
Breakfast is one of the most important meals of the day. It needs to be carefully planned so that it will give you the energy and boost that you need to start your day. This doesn't mean that you need to stop making your favorite dish, pancakes. Pancakes can also give you all the energy that you need and in a very delicious way.
If you put your mind to it you can actually think of the limitless combination of pancakes and toppings. Plus there are many different ways to make the batter. This will make cooking pancakes even fun. The best part of this book is that it will inspire you to start creating your own recipes and combination that you might even share them with us to see how this book helped you.
Pancakes are very easy breakfast. Even if you don't have a lot of experience in cooking you can defiantly make the best pancakes with the help of this book You will learn how to make pancakes in an easy way. The only thing that you need to do is to follow the step-by-step guide and get the ingredients in advance so that you can always be ready when you crave for different pancake versions.
Get this book and:
– Have fun when you make pancakes
– Easy step-by-step guide
– Pancakes to start your day recharged