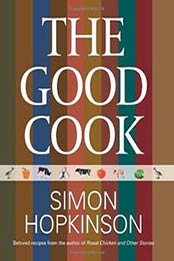 Good Cook by Simon Hopkinson
Print Length: 320 Pages
Publisher: Lyons Press
Publication Date: November 5, 2013
Language: English
ISBN-10: 0762792965
ISBN-13: 978-0762792962
File Format: PDF
Published as the companion volume to the BBC Television show of the same name, The Good Cook is a collection of 100 of legendary chef Simon Hopkinson's favorite recipes, drawn from his childhood, his restaurant career, and his most memorable meals.
A good cook, for Simon, is someone who cares as much about eating as cooking. A good recipe becomes a great dish when the cook has thought about the ingredients and treated them well. These ingredients do not have to be expensive. Simon's genius lies in his belief that a cheap cut of meat, for example, cooked with care can often taste nicer than a choice one prepared by indifferent hand.
Structured around Simon's love of good ingredients and written with his trademark perfectionism and precision, this book is for anyone who loves to cook and wants to learn from one of the best.