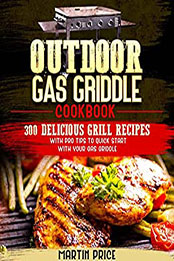 Title: OUTDOOR GAS GRIDDLE COOKBOOK: 300 Delicious Grill Recipes with Pro Tips to Quick-Start With your Outdoor Gas Griddle
Author: Martin Price
Pages: 381
Publisher (Publication Date):
Language: English
ISBN-10, ISBN-13 or ASIN: B09SJ35D4R
Download File Format:EPUB
Do you have a outdoor gas grill that you rarely use because you don't know many recipes?
If yes, then keep reading!
This book will provide you with the recipes and procedures so that you can cook your meals.
What can you get by having and reading this cookbook?
✅ You can know good recipes that you can try cooking in your outdoor gas griddle
✅ You can have 300 delicious recipes for grilling
✅ You can also expect some tips and tricks in grilling
And so much more!
The great outdoors is filled with amazing sights, smells, and sounds. You can enjoy the fresh air of the outdoors in many ways, from camping to picnicking at a park or beach. But one of the best ways to experience the outdoors is grilling.
For those of you who own a gas grill, you can enjoy the convenience of grilling outdoors. However, the question is: what is the best way to grill your favorite foods? A good cookbook can help you with that. This book can share lots of information that may be very valuable to you.
Outdoor Gas Griddle Cookbook is a cookbook that takes you through 300recipes that you can use on your Griddle.
We included all the information you need to get started quickly and easily. We also included pro tips to maximize your grilling experience.
Outdoor Gas Grill is the ultimate guide for all those who want a lively, authentic, and healthy way to grill. So, check out this book and start reading. You will surely enjoy every recipe included in this book.