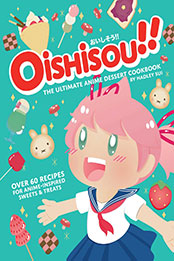 Title:Oishisou!! The Ultimate Anime Dessert Cookbook: Over 60 Recipes for Anime-Inspired Sweets & Treats
Author: Hadley Sui
Pages: 128
Publisher (Publication Date):Insight Editions (June 14, 2022)
Language: English
ISBN-10, ISBN-13 or ASIN: 1647225671
Download File Format:EPUB
Snack your way through the colorful world of anime with over sixty delicious dessert recipes inspired by your favorite Japanese animated shows and movies.
The world of anime comes to life in your kitchen with this adorable cookbook featuring over sixty recipes for desserts and treats inspired by the unique culture and motifs of this iconic Japanese art form. Recipes include traditional Japanese favorites (such as taiyaki and melon pan), memorable dishes depicted in popular shows (such as Rare Cheesecake from Cardcaptor Sakura: Clear Card and Hishi Mochi from Shirokuma Cafe), and foods inspired by classic anime tropes and imagery (such as Valentine's Day Chocolates and Christmas Cake). Fans will be delighted to create and savor sweets and pastries featured in their beloved shows, as well as learning about the origins of these iconic confections. Featuring gorgeous food photography, Oishisou!! The Ultimate Anime Dessert Cookbook is the perfect gift for foodies, lovers of Japanese culture, and anime fans everywhere.
60+ RECIPES: Dozens of recipes for delicious desserts and pastries featured in a wide variety of anime series, all drawn directly from the unique confectionary cultures of Japanese festivals, bakeries, candy shops, cafes, and more!
AUTHENTIC ANIME INSPIRATION: Learn to make the same mouth watering treats enjoyed by fan-favorite characters in some of your favorite Japanese animated shows and films.
FOR BEGINNERS AND BEYOND: Easy-to-follow instructions make it simple for chefs of every skill level to make anime-inspired sweets.
FILLED WITH GORGEOUS PHOTOS: Oishisou!! (pronounced "OH-ee-she-so") means "That looks tasty!" The stunning photos throughout this cookbook celebrate the artistry of these recipes, highlighting unique treats and sweets that look absolutely delicious.
PERFECT GIFT FOR ANIME AND MANGA FANS: Oishisou!! The Ultimate Anime Dessert Cookbook is a fantastic gift for anime and manga enthusiasts, as well as fans of Japanese-inspired pastries and sweets.