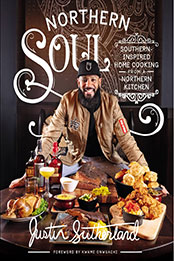 Title: Northern Soul: Southern-Inspired Home Cooking from a Northern Kitchen
Author:Justin Sutherland
Pages: 208
Publisher (Publication Date): Harvard Common Press (September 20, 2022)
Language: English
ISBN-10, ISBN-13 or ASIN: 0760375321
Download File Format:EPUB
In 90+ soul-satisfying recipes, superstar restaurateur and chef Justin Sutherland presents his take on easy Southern-inspired home cooking…with a Northern twist.
Justin owns multiple restaurants in the Twin Cities, though his reputation is national. You may know him from television, where he won an Iron Chef episode, competed on Season 16 of Top Chef, and is one of the chefs featured on Fast Foodies and is producer and host of Taste the Culture, both airing on TruTV/TBS.
In Northern Soul, Justin shares the inspiration and foundation behind his approach to his signature Southern cooking, which includes his upbringing in the Northern Midwest and the South, and his African-American and Asian heritage.
Northern Soul features his signature recipes for lunch, brunch, dinner, snacks, late-night meals, and cocktail recipes perfected at Handsome Hog, his acclaimed pig-centric Southern restaurant in St. Paul, Minnesota. Justin shares how you can make easy, traditional Southern recipes with a Northern flair, in your own kitchen. Some of the recipes you will learn how to cook in Northern Soul:
Carolina BBQ Sandwich
Chicken and Waffles
Ham and Greens Soup
Creole Jambalaya
Bourbon Pecan Pie with Maple Whip
Signature cocktails from Handsome Hog
Lots of spice blends, sauces, rubs, and, as they do it in the South, pickled everything!
Welcome to a new Northern soul!