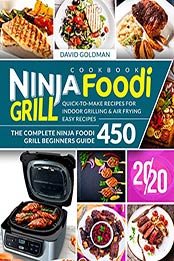 Title: Ninja Foodi Grill Cookbook 2020: The Complete Ninja Foodi Grill Beginners Guide 450 | Quick-to-Make Recipes for Indoor Grilling & Air Frying | Easy Recipes
Autor: David Goldman
Pages: 167
Publisher (Publication Date): March 26, 2020
Language: English
ASIN: B086GPP1DP
Download File Format: EPUB
Enjoy Easy and Most Delicious Recipes with this Ninja Foodi Grill Cookbook 2020.
The Ninja Foodi Grill Cookbook is more than a cookbook. It also provides set up instructions, care and maintenance tips, pro advice on accessories to keep nearby, and go-to grilling techniques for your new favorite recipes. Everything you need to get started is right here inside this grilling cookbook.
Master Your Foodi Multi-Cooker and Impress Your Family, Friends and Guests!
The Ninja Foodi Grill Cookbook Includes:
Helpful Tips and Tricks
Top Grilling Questions Answered
Amazing Meals the Whole Family will Love.
Menu Ideas
Veggie Options Galore
Detailed Ingredient Lists and Precise Cooking Times so Each Dish Turns Out Perfect.
Ninja Know-How.
Breakfast Recipes
Protein-Rich Poultry Recipes
Fish and Seafood
Crispy Snacks
Savory Beef, Lamb, and Pork Dishes