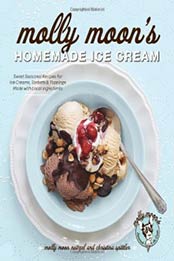 Title: Molly Moon's Homemade Ice Cream: Sweet Seasonal Recipes for Ice Creams, Sorbets, and Toppings Made with Local Ingredients
Autor: Molly Moon Neitzel, Christina Spittler
Pages: 144
Publisher (Publication Date): Sasquatch Books (April 13, 2012)
Language: English
ISBN-10: 1570618100
Download File Format: PDF

When Molly Moon Neitzel opened the first of her five boutique ice cream scoop shops in the spring of 2008, it was an instant hit with the folks of Seattle. So much so that they've been happily lining up for a cone or signature sundae ever since, and now you can make her delicious ice creams, sorbets, and toppings at home! Arranged in the book by season–with the focus on using local, fresh fruit and herbs in combinations that are both familiar and surprising–you will find recipes for most flavors imaginable and even those a little unimaginable. From childhood favorites to avant-garde, adult-only fare, including the classic Vanilla Bean to the exotic Cardamom to the adventurous Balsamic Strawberry and the comforting Maple Bacon (try a scoop on oatmeal for a special winter breakfast treat!), these ice creams and sorbets are both simple and fun to make. Of course, they're even more fun to eat!