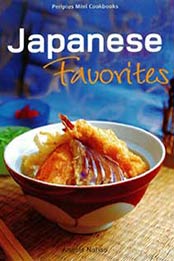 Mini Japanese Favorites (Periplus Mini Cookbook Series) by Angela Nahas
Print Length: 98 Pages
Publisher: Periplus Editions
Publication Date: March 12, 2013
Language: English
ASIN: B00BSEQOFW
File Format: EPUB
All of your favorite Japanese recipes are right here in this cookbook!
Japanese Favorites contains everything you need to create over 40 healthy and authentic Japanese classics. This cookbook contains recipes for appetizers, soups, tofu, vegetables, meat, poultry, fish, seafood, rice, noodles, and desserts. Recipes include:
Tempura batter
Classic miso soup with tofu
Braised daikon radish
Okonomiyaki (Japanese pancake)
Soba noodles in sweet soy broth
Udon noodle soup with tempura
Sweet red beans with jelly
Rice patties with tuna and spring onions
And many more favorites!
Also included are unit conversion tables, dual measurements, clear photos, and an overview of basic Japanese ingredients to create authentic and appetizing Japanese favorites. Each recipe includes cook time, prep time, and serving sizes. Enjoy!