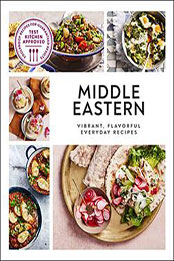 Title: Middle Eastern: Vibrant, Flavorful Everyday Recipes
Author: DK
Pages: 192
Publisher (Publication Date): August 9, 2022
Language: English
ISBN-10, ISBN-13 or ASIN: 0744056837
Download File Format:EPUB
DK brings you a curated collection of all-new triple-tested Middle Eastern recipes from The Australian Women's Weekly.
Australian Women's Weekly (AWW) is one of the most popular magazines in Australia, with an impressive collection of recipes too – helping you to create balanced and healthy meals each and every day, without compromising on flavor! From mouth-watering tagines to crispy falafels and velvety hummus, these easy-to-follow recipes will add new heights to your everyday cooking. With a focus on fresh ingredients, rich flavor combinations, and healthy, balanced meals, and packed with plenty of vegetarian, pescatarian, and plant-based options, these versatile recipes are to be enjoyed by everyone.
The Australian Women's Weekly's triple-tested, fuss-free recipes are trusted favorites around the world, and now you can also enjoy them with this collectible series of creative, accessible, and reliable recipe books. A must-have volume for anyone seeking tried-and-tested, fuss-free recipes with an impressive and creative twist, and lovers of Middle Eastern cuisine who want to recreate food from their favorite restaurants and takeaways
themselves, this all-encompassing cookbook has something for everyone to enjoy.
Sure to get your taste buds tingling, this quick cookbook promises
-Over 90 recipes suitable for all times of the year and a range of occasions
-Ingredients are recognizable and readily available in all markets
-Every recipe is triple-tested in The Australian Women's Weekly test kitchen and by their external recipe tester
-Including a mixture of classic recipes and innovative ideas