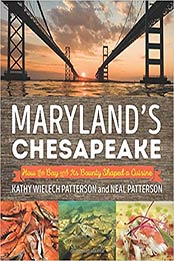 Title: Maryland's Chesapeake: How the Bay and Its Bounty Shaped a Cuisine
Autor: Neal Patterson, Kathryn Wielech Patterson
Pages:224
Publisher (Publication Date): Globe Pequot (August 1, 2016)
Language: English
ISBN-10: 1493017918
Download File Format: EPUB
The culinary heritage of most regions in the US is often determined by the ethnic cuisine of those who settled there, whether it be the Cajun/Creole food of Louisiana or the Italian-inspired fare of the Northeast. For Maryland, the food that defines the state is less about the ethnicity of the population than the bounty which springs forth from the Chesapeake Bay. The Native Americans, British, Germans, and Poles were all influenced by the variety of fish, oysters, clams, crabs, and terrapins that could be harvested from the largest estuary in North America.
In addition to seafood, other dishes associated with the region were developed because of the unique lifestyle created by living along the water. The Smith Island cake, for example, was created as a sturdy dessert that fishermen could take aboard ship during their long days fishing the Chesapeake. Also, the wealthy landowners who first arrived in Maryland, seeking elegant dishes for their lavish dinner parties, concocted ingenious uses for the chickens, squirrels, muskrats, and produce available on the fertile lands along the Bay.
The book is not just about the past, however. The recent trend of sustainability and eating local has brought about a grassroots effort to preserve the delicate nature of the Chesapeake Bay. Modern techniques such as oyster farming and fishing invasive species to protect the indigenous flora and fauna will be explored.
Of course, recipes will be presented to not only illustrate classic dishes that developed over time, but also modern versions created by some of Maryland's top chefs.