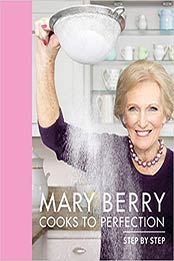 Title:Mary Berry Cooks to Perfection
Author:Mary Berry
Pages:352
Publisher (Publication Date):DK (March 2, 2021)
Language: English
ISBN-10, ISBN-13 or ASIN:9780744045406
Download File Format:EPUB
Make the most delectable and perfect meals with Mary Berry and over 100 of her best recipes at your fingertips.
Your favorite star from The Great British Baking Show, Mary Berry, is back! This inspiring recipe book is filled with dozens of delicious dishes with easy step-by-step instructions to make the perfect dish every time.
Mary Berry Cooks to Perfection is filled with a broad range of new and foolproof recipes for everyday cooking as well as special occasions. With Mary's help, you will learn how to make each meal in the book extra special! Simply follow her tips and tricks in the kitchen to get the perfect results, every time. Just as she does!
Cook to Perfection with Mary Berry
Have you ever wanted to cook salmon that melts in your mouth? Or cook a steak to the perfect shade of pink? How about a cake that's both springy and moist? Now you can! In this delightful recipe book, Mary will introduce you to key techniques for recipes that won't flop. Stunning photographs and easy to follow instructions illustrate each stage of cooking, making this recipe book ideal for cooks who are just starting out.
This cookbook draws on Mary's many years of experience and will teach you all about those small details that make a difference in the kitchen. From the secret to making the perfect ham from scratch, baking featherlight muffins, and the key tips to creating super-crunchy dessert toppings.