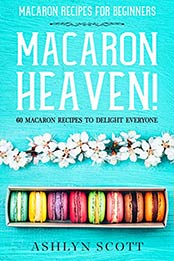 Title:Macarons Recipe For Beginners: MACARON HEAVEN! 60 Macaron Recipes To Delight Everyone
Author:Ashlyn Scott
Pages:199
Publisher (Publication Date):January 18, 2021
Language: English
ISBN-10, ISBN-13 or ASIN:9789814952163
Download File Format:EPUB
GET INTO MACARON HEAVEN WITH OVER 60 DELICIOUS MACARON RECIPES TO DELIGHT EVERYONE IN ANY OCCASION!
In This Book You Will Find Delicious Recipes Such As:
Classic Vanilla Macaron
Fruity Macaron Recipes
Strawberry Rosé Macarons
Rosé Buttercream
Chocolate Raspberry Macarons
Strawberry Macarons
Classic Chocolate Macarons
Chocolate Macarons With Salted Caramel Filling
Blueberry Filled Macarons
Coconut-Lavender Macarons
Lavender Buttercream
Passionfruit Macarons
Bananas Foster Macarons
Classic Chocolate Ganache
Classic Peanut Macarons
PB&J Macarons
Peanut Butter and Honey Macarons
Pecan Pie Macarons
Espresso Mocha Macarons
Pumpkin Spice Latte Macarons
Spiced Chai Macarons
AND SO MUCH MORE!