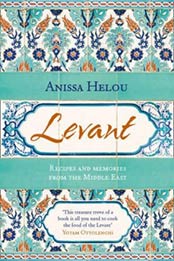 Title: Levant: Recipes and Memories from the Middle East
Autor: Anissa Helou
Pages: 352
Publisher (Publication Date): HarperCollins Publishers; UK ed. edition (June 20, 2013)
Language: English
ISBN-10: 0007313438
Download File Format: EPUB

Anissa Helou's Levant is a collection of mouth-watering recipes inspired by Anissa's family and childhood in Beirut and Syria, and her travels around the exciting regions of the eastern Mediterranean and the Middle East. 'This treasure trove of a book is all you need, really, to cook the food of the Levant. It is as comprehensive and conclusive as it gets, but it also tells charming personal stories and masterfully takes you on a journey to all those enchanted lands.' Yotam Ottolenghi Levant, or rising of the sun, is the crossroads where western Asia, eastern Mediterranean and northwest Africa meet. A land that is culturally diverse but united by common culinary threads. In this personal tour Anissa introduces the stunning food of Syria, Lebanon, Turkey, Iran, Palestine and Jordan. She draws them together through the themes of family, farm, souks (markets), restaurants, bakeries and the sweetmakers and attempts to record the food traditions of countries that are changing beyond recognition and at risk of disappearing. Levant includes 150 inspired recipes for soups and sides, salads and mezze, meats, fish and vegetarian, sweets, preserves and breads. Dishes include Lemony Swiss Chard and Lentil Soup, Fried Eggs with Sumac, Kibbe Balls in Yoghurt Sauce, Cabbage and Tomato Salad, Sweet Pistachio Pie, Wild Chicory in Olive Oil with Caramelized Onion, Grilled Aubergines with Tahini Sauce, Turkish Cheese Pie, Lebanese Morning Bread, Halva, and Milk Pudding.