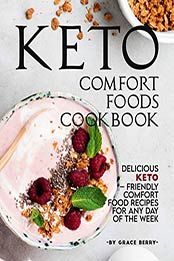 Title: Keto Comfort Foods Cookbook: Delicious Keto – Friendly Comfort Food Recipes for Any Day of The Week
Autor: Grace Berry
Pages: 82
Publisher (Publication Date):April 11, 2020
Language: English
ASIN: B0871CPB1B
Download File Format: EPUB
30 nutritious, keto-friendly traditional carb-loaded dishes. Introduced so you can stay on track with your keto goals and enjoy your favorite comfort foods.
Bread, pasta, pizza, French fries and baked goods. All carb-loaded treats are restricted when on the keto diet. But not because you have given up carbs means you have to give up on the tastes of those loaded carb dishes that bring you comfort.
In Keto Comfort Foods Cookbook, you will find 30 healthy, keto-friendly versions of established carb-loaded dishes. From original macaroni and cheese to lasagna and low-carb pastries, you will definitely find new choices that will entice everyone at the table. This book will help you to get over your cravings and achieve your keto diet goals.