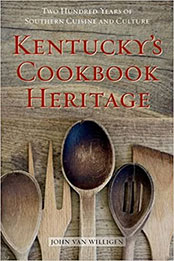 Title: Kentucky's Cookbook Heritage: Two Hundred Years of Southern Cuisine and Culture
Author:John van Willigen
Pages: 306
Publisher (Publication Date): University Press of Kentucky; Illustrated edition (September 12, 2014)
Language: English
ISBN-10, ISBN-13 or ASIN: 0813146895
Download File Format:EPUB
Food is a significant part of our daily lives and can be one of the most telling records of a time and place. Our meals―from what we eat, to how we prepare it, to how we consume it―illuminate our culture and history. As a result, cookbooks present a unique opportunity to analyze changing foodways and can yield surprising discoveries about society's tastes and priorities.
In Kentucky's Cookbook Heritage, John van Willigen explores the state's history through its changing food culture, beginning with Lettice Bryan's The Kentucky Housewife (originally published in 1839). Considered one of the earliest regional cookbooks, The Kentucky Housewife includes pre–Civil War recipes intended for use by a household staff instead of an individual cook, along with instructions for serving the family. Van Willigen also shares the story of the original Aunt Jemima―the advertising persona of Nancy Green, born in Montgomery County, Kentucky―who was one of many African American voices in Kentucky culinary history.
Kentucky's Cookbook Heritage is a journey through the history of the commonwealth, showcasing the shifting priorities and innovations of the times. Analyzing the historical importance of a wide range of publications, from the nonprofit and charity cookbooks that flourished at the end of the twentieth century to the contemporary cookbook that emphasizes local ingredients, van Willigen provides a valuable perspective on the state's social history.