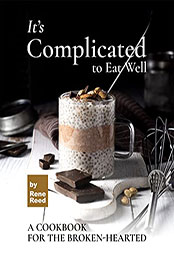 Title: It's Complicated to Eat Well: A Cookbook for the Broken-hearted
Author: Rene Reed
Pages: 74
Publisher (Publication Date):August 12, 2021
Language: English
ISBN-10, ISBN-13 or ASIN: B09CKSS82S
Download File Format:EPUB
Don't give us the excuse that "it's complicated" to eat well; we're not buying it. Look around you, we've all been through heartbreak at least once before, and we're still standing. And so will you when your process is over! However, to get through that, you're going to need all your strength. We understand if you're emotionally exhausted right now, the good thing is, sometimes taking care of yourself has nothing to do with your emotions. If your mind is not in the right place, then at least fill your stomach with some healthy, yummy food. We promise it'll help you feel better! To help you out, we've gotten together with Jane and have listed all of the recipes for drinks, breakfast, lunch, dinner, and even desserts that you will need to get over this separation.
We know it's not an easy process, but hopefully, by the end of this book, you'll have discovered some new skills, and you'll at least have gotten out of bed on multiple occasions to whip up these yummy treats! Let us be part of your process through these foods, and you will soon find yourself ready to go out into the world once more, stronger and more beautiful than before.