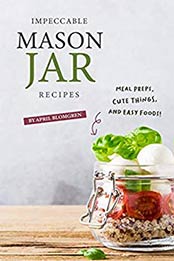 Title: Impeccable Mason Jar Recipes: Meal Preps, Cute Things, And Easy Foods!
Autor: April Blomgren
Pages: 81
Publisher (Publication Date): October 21, 2019
Language: English
ASIN: B07ZFTWW7X
Download File Format: EPUB
About four years ago, mason jars became a craze in my part of town. Many shops had them in massive stock and my friend, Julie was really into these containers. She drank everything in mason jars, even water. How absurd and influencing at the same time?
Fast forward, two years after, I have found them to be not only comfortable to use but excellent for meal preps and creating decorative crafts.
I am a diet and craft fanatic, so it is obvious that mason jars help me reach my nutritional, art, and craft goals rightly.
In my compilation of simple cookbooks, I find mason jar made foods and crafts to be fantastic for everyone out there. They allow you to prepare meals ahead of time and have you carry them along in the most convenient ways.
Mason jars also act as the perfect storage containers from spices to crayons; I make sure to incorporate them into various aspects of my family's life.
So, if you've got a few jars sitting on your shelves and not sure how to use them, this book will teach you what to do.
Ready to learn? See you on the next page.