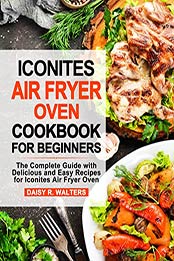 Title: Iconites Air Fryer Oven Cookbook for Beginners: The Complete Guide with Delicious and Easy Recipes for Iconites Air Fryer Oven
Author: Daisy R. Walters
Pages:
Publisher (Publication Date): October 26, 2020
Language: English
ASIN: B08LZTJP95
Download File Format:EPUB
"Get to know your Iconites Air Fryer Oven—the affordable, quick & easy way!"
Iconites Air Fryer Oven is an amazing tool to save time in cooking delicious meals that usually take hours to make with traditional ways. However, sometimes we get bored preparing the same meals every day.
In this Iconites Air Fryer Oven Cookbook both for beginners and dietary experts, you'll learn how to cook the most affordable, quick & easy recipes.
It covers everything you want to try with your Iconites smart oven. It contains the following categories:
Tons of Appetizers & Side Dishes
Lots of Poultry and Red Meat recipes
Great variety of Vegetarian and Vegan meals
Fish & Seafood choices
Tasty Breakfasts & Effortless Desserts
Staple Recipes
This Cookbook will take care of your scarce cooking time, increase your desire and commitment to the vegan lifestyle. From this cookbook you will learn:
A complete Iconites Air Fryer oven guide
The advantages of Iconites Air Fryer oven over regular air fryer
Tips to cook perfect air fryer meals
Air fryer temperature and time chart
Convenient recipe index
And More…
Get a copy of this great Iconites Air Fryer Oven Cookbook and enjoy your life once and for all.