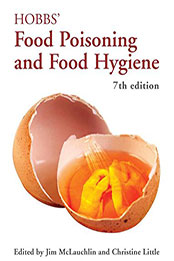 Title: Hobbs' Food Poisoning and Food Hygiene 7th Edition
Author:Jim McLauchlin
Pages: 360
Publisher (Publication Date):CRC Press; 7th edition (June 29, 2007)
Language: English
ISBN-10, ISBN-13 or ASIN: 9780340905302
Download File Format:PDF
This unique textbook takes a holistic approach to food poisoning and food hygiene, explaining in clear and non-technical language the causes of food poisoning with practical examples from 'real-life' outbreaks. Now in its seventh edition, the book retains its longstanding clarity, while being completely revised and updated by a new team of editors and contributing authors.
Hobbs' Food Poisoning and Food Hygiene gives the reader a practical and general introduction to the relevant micro-organisms that affect food in relation to food safety and foodborne illness. Emphasis is given to the main aspects of hygiene necessary for the production, preparation, sale and service of safe food. Information about the behaviour of microbiological agents in various foods, their ability to produce toxins and the means by which harmful organisms reach food is applied to manufacture and retail procedures, and to equipment and kitchen design. For the first time the book includes coverage of waterborne infections and sewage and, through judicious selection of case examples, indicates the global nature of food and water hygiene today. The contribution of different professional groups to the control of food- and waterborne organisms is also recognized.
This book remains an essential course text for students and lecturers dealing with food science, public health, microbiology, environmental health and the food service industry. It also serves as an invaluable handbook for professionals within the food industry, investigators, researchers in higher education and those in the retail trade.