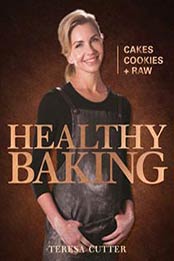 Healthy Baking: Cakes, Cookies + Raw (Healthy Chef) by Teresa Cutter
Print Length: 488 Pages
Publisher: Healthy Chef
Publication Date: April 6, 2017
Language: English
ASIN: B06XYPSW15
File Format: AZW3
Delicious recipes that are free from refined sugars and flours, and offer gluten-free and paleo alternatives to suit everyone's taste!
HEALTHY BAKING – Cakes, Cookies + Raw is the ultimate must have healthy, wholefood baking book of our time.
It's all about going back to basics, keeping things simple and using quality ingredients that are good for health and wellbeing.
The recipes are made from pure, honest wholefoods and focus on SUGAR FREE, GLUTEN-FREE, VEGAN, PALEO andWHOLEFOOD creations.
It contains 488 pages of all new and exclusive recipes, and chapters on Teresa's baking secrets that include:
Gluten Free Breads
Scrumptious Cookies
Wholesome Cakes
Raw Desserts
Naked Chocolate Treats
Gluten Free Scones
Healthy Baking Tips and more!
Healthy Baking extra features:
+ Dairy and non-dairy suggestions
+ Comprehensive kitchen tools list and ingredients glossary
+ Exclusive, new recipes
+ The Baking Essentials
+ Creams, Jams + Vegan Butter + Teresa's favourite recipe for Raw Golden Turmeric Custard
+ Beautiful quality production and photography for each recipe
Healthy Baking is the perfect companion to Purely Delicious, and a classic gem to add to your Healthy Chef collection.