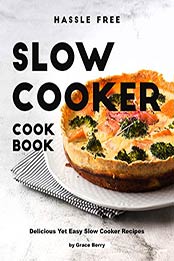 Title: Hassle Free Slow Cooker Cookbook: Delicious Yet Easy Slow Cooker Recipes
Author: Grace Berry
Pages: 77
Publisher (Publication Date): June 7, 2020
Language: English
ASIN: B089SN7XJM
Download File Format: EPUB
30 delicious recipes to help you master your crock-pot and impress your entire family!
It will amaze you how useful the Crock-pot will be to you in cooking your favorite dishes! Not because you are always on the go, that does not mean you have to eat out at night. Eating out might be very convenient but are you sure the food contains healthy ingredients? The crock-pot is the solution to your problem.
You can eat nutritious and delicious meals, despite your hectic schedule.
You don't have to learn extraordinary kitchen skills to prepare delicious, healthy foods in your own kitchen. Slow Cooker Cookbook will teach you how to cook your favorite comfort food without bursting a sweat. This nifty kitchen device will assist you in preparing delicious meals just about any time of the day.
This Cookbook consists of 30 fresh, foolproof recipes including:
• Crustless Smoked Salmon and Asparagus Quiche
• Keto Granola
• Pork Chili Verde
• Garlicky Beef Stew with Olives and Capers
• Lamb Stew with Cumin and Greens
• Cinnamon Crunch Coffee Cake
• Plus much more
This cookbook will help you to make the best dishes ever; those are around you will certainly be impressed by your wonderful meals!
Don't hesitate, get your copy today!