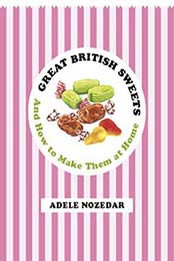 Great British Sweets: And How To Make Them at Home by Adele Nozedar
Print Length: 176 Pages
Publisher: Random House UK
Publication Date: October 1, 2015
Language: English
ISBN-10: 0224095749
ISBN-13: 978-0224095747
File Format: EPUB
A deliciously nostalgic celebration of the best old-fashioned British sweets and confectionery—with more than 50 simple and easy recipes to make at home
A gloriously indulgent celebration of the Great British love affair with sweet-making and good old-fashioned confectionery, this collection offers simple recipes for replicating everyone's favorites at home. From pear drops to humbugs, honeycomb confections to liquorice, coconut ice to sugar mice, Nozedar gives us the rich history of these classic sweets along with over 50 easy-to-follow recipes for how to make them at home. Make your own Macaroon Bars. Have a go at homemade Humbugs. Create a giant Curly Wurly bar. Or rustle up some lovely Liquorice. Includes metric measures.