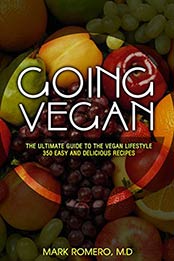 Title: Going Vegan: The Ultimate Guide To The Vegan Lifestyle + 350 Easy and Delicious Recipes
Autor: Romero M.D, Mark
Pages: 238
Publisher (Publication Date): Mark Romero, M.D (January 10, 2015)
Language: English
ASIN: B00S3Y0TZQ
Download File Format: EPUB
As the famous author and philosopher of animal rights, Gary .L. Francione says "Veganism is not about giving anything up or losing anything; it is about gaining the piece within yourself that comes from embracing nonviolence and refusing participate in the exploitation of the vulnerable.
Veganism is a way of living which abstains from the usage of animal and animal products, through all ways known to man, so as to avoid the exploitation of animals for food, clothing or for any other purpose. It believes in the philosophy which rejects the 'commodity status' that is given to animals. A person who follows this philosophy in all aspects of their life is known as a vegan. This book will help guide your vegan journey.