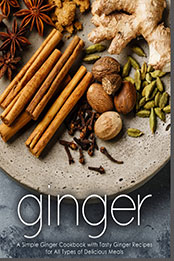 Title: Ginger: A Simple Ginger Cookbook with Tasty Ginger Recipes for All Types of Delicious Meals
Author: BookSumo Press
Pages:102
Publisher (Publication Date): CreateSpace Independent Publishing Platform (July 4, 2018)
Language: English
ISBN-10, ISBN-13 or ASIN: 1722327219
Download File Format:EPUB
Cooking with Ginger
Get your copy of the best and most unique Ginger recipes from BookSumo Press!
Come take a journey with us into the delights of easy cooking. The point of this cookbook and all our cookbooks is to exemplify the effortless nature of cooking simply.
In this book we focus on Ginger. Ginger is a complete set of simple but very unique Ginger recipes. You will find that even though the recipes are simple, the tastes are quite amazing.
So will you join us in an adventure of simple cooking?
Here is a Preview of the Ginger Recipes You Will Learn:
Garden Style Chicken Breasts
Autumnal Mashed Potatoes
West African Ginger Florets Soup
Ginger Soup Septembers
Caribbean Prawns
Brussels Sprouts Mongolian
Asian Fusion Cake
My First Chutney
Chinese Buffet Beef
Leafy Greens Lunch Box Salad with Ginger Vinaigrette
Malaysian Basmati
Tomato Bisque
Cheesecake Shanghai
Vanilla Crispies
Asian Cabbage Stir Fry
Window Sill Tea Bread
Rising Sun Soup
Chinese Carrot Wok
Sweet Shibuya Salsa
Grilled Ginger Tilapia
Mongolian Green Beans
Teriyaki Fish
Thai Peanut Penne
Much, much more!
Again remember these recipes are unique so be ready to try some new things. Also remember that the style of cooking used in this cookbook is effortless. So even though the recipes will be unique and great tasting, creating them will take minimal effort!