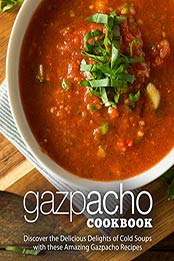 Title: Gazpacho Cookbook: Discover the Delicious Delights of Cold Soups with these Amazing Gazpacho Recipes
Author: BookSumo Press
Pages:
Publisher (Publication Date):BookSumo Press (November 27, 2020)
Language: English
ASIN: B08P8W7FH4
Download File Format:EPUB
Gazpacho Goodness.
Get your copy of the best and most unique Gazpacho recipes from BookSumo Press!
Come take a journey with us into the delights of easy cooking. The point of this cookbook and all our cookbooks is to exemplify the effortless nature of cooking simply.
In this book we focus on Gazpacho. The Easy Gazpacho Cookbook is a complete set of simple but very unique Gazpacho recipes. You will find that even though the recipes are simple, the tastes are quite amazing.
So will you join us in an adventure of simple cooking?
Here is a Preview of the Gazpacho Recipes You Will Learn:
Jalapeno Gazpacho
Summer Solstice Gazpacho
Crab Gazpacho
Western European Gazpacho
Latin Gazpacho
New World Ceviche
Gazpacho Appetizer
Sherry Gazpacho
Gazpacho Chiller
Manhattan Gazpacho
Green Spanish Gazpacho
Pasta Gazpacho
Ripe Gazpacho
Mexican Gazpacho
Strawberry Pineapple Gazpacho
East Coast Gazpacho
Little Tomato Gazpacho
French Style Gazpacho
Cha-Cha Gazpacho
Louisiana Gazpacho
Maiz Gazpacho
Much, much more!
Again remember these recipes are unique so be ready to try some new things. Also remember that the style of cooking used in this cookbook is effortless. So even though the recipes will be unique and great tasting, creating them will take minimal effort!