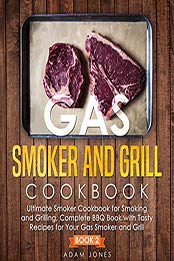 Title: Gas Smoker and Grill Cookbook
Author: Adam Jones
Pages: 171
Publisher (Publication Date): December 10, 2020
Language: English
ASIN: B08QDMXNZ6
Download File Format:EPUB
Complete Gas Smoker Cookbook by Adam Jones
The ultimate cookbook for gas smoker, use this complete guide to smoke all types of meat. Offers detailed guidance obtained by years of smoking meat includes clear instructions and step-by-step directions for each recipe. The guide will help you professionally smoke a variety of food, including beef, pork, lamb, fish, seafood, poultry, veggies and game recipes such as:
Spicy Coffee Smoked Beef Brisket Chocolate Marinade
Citrusy Smoked Pork Loin with Apricot Glaze
Bourbon Honey Glazed Smoked Chicken Thighs
Soy Maple Smoked Salmon
Juicy Smoked Venison tender with Herbs Rub
Lime Marinade Smoked Cabbage with Black Pepper
The book includes photographs of every finished meal, temperature charts, helpful tips and tricks to make your job easier. The cookbook will help you keep the culinary tradition of SMOKE cooking alive and will remind you that smoking that smoking food is one of the most ancient and most cherished cooking traditions that will help you enjoy food the way you never enjoyed before!