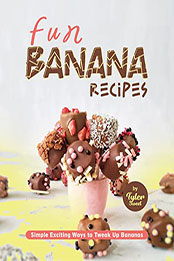 Title: Fun Banana Recipes: Simple Exciting Ways to Tweak Up Bananas
Author: Tyler Sweet
Pages: 67
Publisher (Publication Date): June 8, 2022
Language: English
ISBN-10, ISBN-13 or ASIN: B0B3LYRJ6J
Download File Format:EPUB
Are you tired of having bananas in smoothies? How about you try out some new ways?
This cookbook shares some amazing banana recipes that are super quick to make. They use fresh and frozen bananas to create tasty treats that require nearly no time.
They are simple recipes but put a shine on bananas that would make you love them better.
Are you ready to try some fun banana recipes? Let's head in.