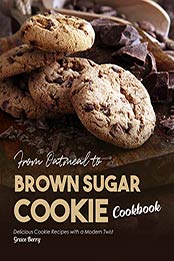 Title: From Oatmeal to Brown Sugar Cookie Cookbook: Delicious Cookie Recipes with a Modern Twist
Autor: Grace Berry
Pages:
Publisher (Publication Date): May 9, 2020
Language: English
ISBN-10: B088DQ495X
Download File Format: EPUB
Fresh hot cookies from the oven are loved by everyone. Lovers of baked treats will love this cookbook too. Cookie Cookbook has a wide range of irresistible American classics, including Cream Cheese Cookies, Oatmeal Cookies, Old Fashioned Chocolate Chip Cookies, Snickerdoodles, and much more.
This cookbook is filled with some tasty recipes that are easy-to-follow and are fantastic for new bakers and experienced ones alike.
Cookie Cookbook is detailed and has 30 scrumptious recipes with a variety of cookies and familiar treats that your friends and family will love. Sweet tips on making things a lot simpler like basic baking techniques and helpful tools. There are also some yummy tricks – advice on how to handle leftovers, how to mix things up according to your preference, substituting ingredients.
Cookie Cookbook makes it easy to have your sweet tooth satisfied along with everyone else.