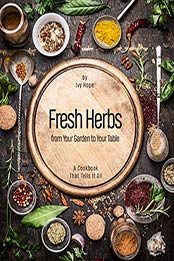 Title: Fresh Herbs from Your Garden to Your Table: A Cookbook That Tells It All
Author: Ivy Hope
Pages: 62
Publisher (Publication Date):February 15, 2021
Language: English
ISBN-10, ISBN-13 or ASIN:B08WPV1YQZ
Download File Format:EPUB
This cookbook has the goal to suggest 100% of the time using fresh and dried herbs. Here are a few tips. If you can grow fresh herbs in your garden or in a pot inside your house, it is the best scenario. The second acceptable scenario is to get them at your local produce markets or grocery stores.
The other option is to dry your fresh herbs if you are affair the fresh ones will go bad, or you have a ton to store and cannot keep them fresh for a longer period. Now, we do not suggest it at all, but we know at times you will have to rely on dried herbs bought from the stores. Knowing that they are not harmful, but if you must, please choose carefully, and it may be worth it to pay a little extra to get organic fine herbs if you have to consider buying them dried.
Using fresh herbs in your recipes not only makes a big difference in flavors but also adds some awesome and beautiful colors to your dishes. You can often use fresh herbs simply for decoration that is perfectly OK.
Either you use the fresh or dried ones; however, there are a few precautions to take. Never overuse! You can certainly ruin your dish if you are using way too many seasonings, so it is the same for fresh and dried herbs. The subtler it is, it is often better.
Also, be aware of what herbs marry well with what meats, veggies, or overall dishes. We will help you in that matter along the way in this cookbook. We will also share with you the numerous health benefits of consuming fresh herbs in your diet. Stay tuned!