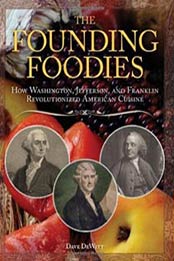 The Founding Foodies: How Washington, Jefferson, and Franklin Revolutionized American Cuisine by Dave DeWitt
Print Length: 336 Pages
Publisher: Sourcebooks
Publication Date: November 1, 2010
Language: English
ASIN: B00452V576
ISBN-10: 1402217862
ISBN-13: 978-1402217869
File Format: PDF
Who Were the Original Foodies?
Beyond their legacy as revolutionaries and politicians, the Founding Fathers of America were first and foremost a group of farmers. Passionate about the land and the bounty it produced, their love of food and the art of eating created what would ultimately become America's diverse food culture.
Like many of today's foodies, the Founding Fathers were ardent supporters of sustainable farming and ranching, exotic imported foods, brewing, distilling, and wine appreciation. Washington, Jefferson, and Franklin penned original recipes, encouraged local production of beer and wine, and shared their delight in food with friends and fellow politicians.
In The Founding Foodies, food writer Dave DeWitt entertainingly describes how some of America's most famous colonial leaders not only established America's political destiny, but also revolutionized the very foods we eat.
Features over thirty authentic colonial recipes, including:
Thomas Jefferson's ice cream
A recipe for beer by George Washington
Martha Washington's fruitcake
Medford rum punch
Terrapin soup