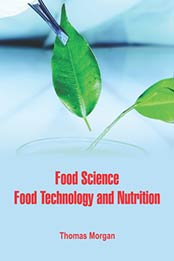 Title: Food Science, Food Technology and Nutrition
Autor: Thomas Morgan
Pages: 377
Publisher (Publication Date): 2018
Language: English
ISBN-10: 1684696038
Download File Format: PDF
Food Science and Nutrition is a comprehensive textbook that is specially designed to meet the needs of students of hospitality studies, hotel management, and catering technology. This book has been written so as to serve the purpose of equipping readers with all that entails the science of handling food in a technical and scientific manner, and retaining its nutritive qualities.
Food Science is a multi-disciplinary field involving chemistry, biochemistry, nutrition, microbiology and engineering to give one the scientific knowledge to solve real problems associated with the many facets of the food system. The basis of the discipline lies in an understanding of the chemistry of food components, such as proteins, carbohydrates, fats and water and the reactions they undergo during processing and storage. A complete understanding of processing and preservation methods is required including drying, freezing, pasteurization, canning, irradiation, extrusion, to name just a few. The ability to carry out analysis of food constituents is developed along with statistical quality control methods. The microbiology and the safety aspects of food must also be understood. Other topics covered include food additives, the physico-chemical properties of food, flavor chemistry, product development, food engineering and packaging.
The book begins with an all-round look into the intricacies of food science–what import it carries, the techniques and principles underlying it, the development of foods, the disciplines and aspects of food involved etc.