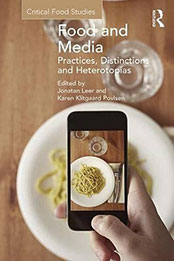 Title: Food and Media: Practices, Distinctions and Heterotopias (Critical Food Studies)
Author: Jonatan Leer
Pages: 212
Publisher (Publication Date): Routledge; 1st edition (June 28, 2016)
Language: English
ISBN-10, ISBN-13 or ASIN: 1472439686
Download File Format:EPUB
Food is everywhere in contemporary mediascapes, as witnessed by the increase in cookbooks, food magazines, television cookery shows, online blogs, recipes, news items and social media posts about food. This mediatization of food means that the media often interplays between food consumption and everyday practices, between private and political matters and between individuals, groups, and societies.
This volume argues that contemporary food studies need to pay more attention to the significance of media in relation to how we 'do' food. Understanding food media is particularly central to the diverse contemporary social and cultural practices of food where media use plays an increasingly important but also differentiated and differentiating role in both large-scale decisions and most people's everyday practices.
The contributions in this book offer critical studies of food media discourses and of media users' interpretations, negotiations and uses that construct places and spaces as well as possible identities and everyday practices of sameness or otherness that might form new, or renew old food politics.