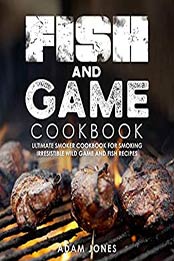 Title:Fish and Game Cookbook
Author: Adam Jones
Pages: 145
Publisher (Publication Date): October 7, 2020
Language: English
ASIN: B08KWP7S4W
Download File Format:EPUB
Fish and Wild Game Cookbook: Tasty Recipes of Game, Birds, Fish and Etc. : By Adam Jones
The ultimate cookbook for making tasty recipes of wild game using smoker and grill, use for smoking birds, game, fish, and small game. Offers detailed guidance obtained by years of smoking meat includes clear instructions and step-by-step directions for every recipe.
The only guide you will ever need to professionally smoke a variety of food, including recipes such as:
Sweet Soy Glaze Smoked Bluefish
Spicy Sweet Wet Rub Smoked Crappie Sriracha
Smoked Clams Original with Wine Sauce
Coffee and Wine Marinade Smoked Boar Leg
Smoked Squirrel in Cherry Sauce
Buttermilk Smoked Dove with Gochujang Sauce
The book includes photographs of every finished meal, helpful tips and tricks on smoker, making BBQ and SMOKING MEAT to make your job easier. Whether you are a beginner meat smoker or looking to go beyond the basics, the book gives you the tools and tips you need to start that perfectly smoked meat.