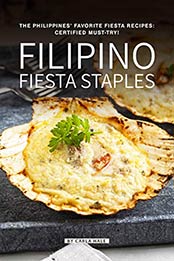 Title: Filipino Fiesta Staples: The Philippines' Favorite Fiesta Recipes: Certified Must-Try!
Autor:Carla Hale
Pages: 97
Publisher (Publication Date): February 7, 2019
Language: English
ISBN-10:
ASIN: B07NHJKKWN
Download File Format: AZW3

If there is one great time to visit the Philippines, it's when a festival is on. The term 'fiesta' may possibly be of Spanish origin but the Filipinos long devised it to signify their love for parties, for friends and families coming together, for food. Yes, they had fiestas even before the Spaniards came to colonize the country. And the Filipinos sure know how to party, especially food-wise. This cookbook features the standard fiesta dishes that you will partake on if you time your visit during a fiesta.
Oh boy, this considerably small nation has so much. Every barangay, every municipality, and every province in the Philippines sets aside a day or two or even an entire week to celebrate as one, to be united as a community of fun-loving people, to present utterly delicious traditional dishes that are worth the world's attention. If you are, just like us, mesmerized of the Filipino food culture, this cookbook is for you. You clearly don't have to wait participating in the kind of Filipino merriment that is fiesta to taste the regional delicacies and cook them at home. You can start now while perusing this fantastic recipe guidebook.