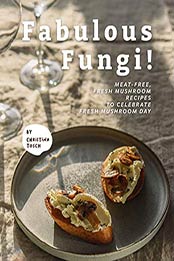 Title:Fabulous Fungi!: Meat-Free, Fresh Mushroom Recipes to Celebrate Fresh Mushroom Day
Author:Christina Tosch
Pages:106
Publisher (Publication Date):March 21, 2021
Language: English
ISBN-10, ISBN-13 or ASIN:B08ZMR43B3
Download File Format:EPUB
From Cremini to Chanterelle, Porcini to Portobello, and Morel to Maitake, the time is right to make a meal of it with nature's hidden treasure, fresh mushrooms!
Celebrate Fresh Mushroom Day on April 16th with these 40 meat-free fresh mushroom recipes.
Grown all-year-round and always in season, fresh mushrooms are packed full of savory flavor and rich in vitamins and minerals. Their unique versatility makes them an excellent ingredient for all sorts of recipes.
Fried, baked, grilled, or stewed, fresh mushrooms are a great meat substitute. Great as a side or as a main ingredient for all sorts of savory meals, fresh mushrooms add depth to hearty soups, stews, and breakfast bakes and meaty texture to pasta, pizza, curry, and more.
If you are crazy for King Oyster, enthused about Enoki, or batty about Button, now is the time to get cooking with mushrooms. Discover 40 ways to prepare fabulous fungi and enjoy Fresh Mushroom Day!