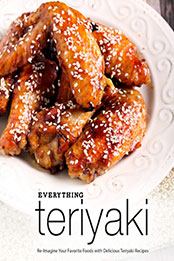 Title: Everything Teriyaki: Re-Imagine Your Favorite Foods with Delicious Teriyaki Recipes
Author: BookSumo Press
Pages: 50
Publisher (Publication Date): CreateSpace Independent Publishing Platform (July 20, 2018)
Language: English
ISBN-10, ISBN-13 or ASIN:1723192481
Download File Format:EPUB
Teriyaki Burgers. Teriyaki Slaw. Teriyaki Fish. Everything Teriyaki.
Get your copy of the best and most unique Teriyaki recipes from BookSumo Press!
Come take a journey with us into the delights of easy cooking. The point of this cookbook and all our cookbooks is to exemplify the effortless nature of cooking simply.
In this book we focus on Teriyaki. Teriyaki Everything is a complete set of simple but very unique Teriyaki recipes. You will find that even though the recipes are simple, the tastes are quite amazing.
So will you join us in an adventure of simple cooking?
Here is a Preview of the Teriyaki Recipes You Will Learn:
Classic Teriyaki Sauce
Homemade Japanese House Jerky
Classic Teriyaki Chuck Burgers
Japanese Chicken Legs
Teriyaki Florets Bowls
Teriyaki Chicken Thighs
Sweet Teriyaki Spuds
Tuesday's Steak
Teriyaki Penne
Tropical Teriyaki Kabobs
Teriyaki Steak BBQ
Teriyaki Beef Sandwiches
Glazed Asparagus Salad
Kiki's Honey Salmon
Tex Mex Teriyaki Steak
Wild Rice Teriyaki
Teriyaki Seafood Skewers
Teriyaki Pasta
Teriyaki Cod
Vegetarian Teriyaki Skillet
Teriyaki Backyard Burgers
Sushi Chisaka
Much, much more!
Again remember these recipes are unique so be ready to try some new things. Also remember that the style of cooking used in this cookbook is effortless. So even though the recipes will be unique and great tasting, creating them will take minimal effort!