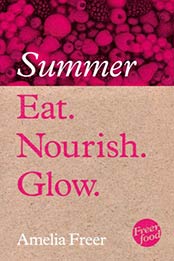 Title: Eat. Nourish. Glow – Summer
Autor: Amelia Freer
Pages: 28
Publisher (Publication Date): HarperCollins (May 8, 2014)
Language: English
ISBN-10:
ASIN-10: B00HTW77VC
Download File Format: EPUB

The second of four seasonal e-shorts from London-based nutritional therapist Amelia Freer. Forget fad diets, now is the time to make a lasting change and develop a healthy, clean and sustainable relationship with food.
Being healthy is a way of life, but it doesn't have to be about denying yourself. Amelia Freer loves food and encourages a positive and realistic approach to healthy eating. In this book, she offers small changes to your diet and lifestyle to help you look and feel amazing by the time summer rolls around, with no need for last-minute bikini diets.
Targeting seasonal problems and using seasonal ingredients, Amelia is on a mission – to wean us all off additive-crammed foods and help us rediscover the joys of cooking and eating fresh, healthy ingredients.
Summer is a time to enjoy the sun, be more active, and delight in the fresh fruits and vegetables the season offers. Amelia believes that issues such as weight loss, lack of energy and stress can be helped by small lifestyle choices.
With seven exclusive recipes, perfect for sharing with friends on sunny days and bursting with all the colours and flavours of summer, this title is focused on creating a healthy, sustainable and enjoyable lifestyle.
Amelia Freer's first full-length title offering her complete food philosophy will be published in January 2015.