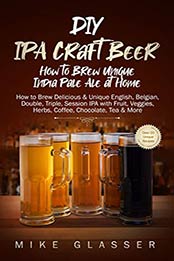 Title:DIY IPA Craft Beer – How to Brew Unique India Pale Ale at Home: How to Brew Delicious & Unique English, Belgian, Double, Triple, Session IPA with Fruit, Veggies, Herbs, Coffee, Chocolate, Tea & More
Author: Mike Glasser
Pages: 120
Publisher (Publication Date):Thames & Tower House; 1 edition (July 2, 2020)
Language: English
ISBN-10: 9798663437035
Download File Format: PDF
India pale ale (IPA) craft beer is super popular right now. This homebrewed drink is fun, funky, and fresh. Do you wonder how you can make an IPA craft beer at home? Do you think it's hard to brew beer for yourself? Have you ever thought about making a beer with pumpkin or basil? Well, you can! Let me show you how!
Make a unique IPA beer that you'll crave.
With new flavors and styles comes new ways of enjoying the beer. In this book, I will open your eyes to new ways of preparing and enjoying IPA at home. Brewing IPA might not be as easy as brewing a cup of coffee, but it is not rocket science, either.
In my book, IPA Craft Beer – How to Brew Unique India Pale Ale at Home, I show you how to brew the best craft beer, the India pale ale, in a way that you will love to drink it and serve it to your friends and family. No matter what your personal taste may be, I will show you how to craft a homebrew IPA that fits your style. If you like your IPA extra hoppy, sweet, or "horse blanket," you will learn how to make a beer that will taste as you want it to (and what all of those terms mean when properly tasting your beer).
Learn how to brew, bottle, store, and taste your new custom craft IPA beer.
I came from a long line of brewers. My late grandfather and father passed down their brew master legacy to my brother and me. In the past 20 years, I have taught individuals with zero kitchen experience to prepare craft beer from scratch in the comfort of their own home. Even if you don't think that you're a perfect chef, if you can boil water, you can make IPA beer!
The beauty of this book is that it covers the process of preparing beer at home using the most basic tools and ingredients. Although you may be required to buy one or two special tools, most of the tools we use are already available at home. I will take you step-by-step through the beer-making process, starting with the absolute basics.
Did you know you can make an IPA with vegetables?
In my guide to making the ultimate India pale ale, I will show you everything you need to know about how to make IPA craft beer brewed at home. (Yes, it's totally legal in the United States as long as it's for personal consumption.)
You will learn all about creating an India pale ale craft beer, which includes these topics:
Definitions of common terms in beer brewing
The history of beer brewing
The introduction of craft beer to the us
Different types of beer
Different IPA styles
Future trends in IPA production
The legalities of brewing beer at home
The science of beer brewing
What IBU means
Basic beer brewing equipment and ingredients
How to troubleshoot common IPA issues
How to keg beer
How to bottle beer
How to taste beer
Creative ways to drink an IPA
Pairing IPAs with food
Ipas with other beers
Mistakes to avoid when preparing IPA beer
13 hacks that will make IPA brewing easy
Precautions to consider when brewing IPA beer
Frequently asked questions all about IPAs
PLUS Over 20 IPA Beer Recipes:
Classic IPA Recipes
Fruit and Vegetable IPAs
Herbal IPA Recipes
IPA Coffee and Chocolate Recipes
IPA Tea Recipes
Have fun with brewing your own craft beer IPA.
Once you are satisfied that you meet all the criteria for brewing at home, practice brewing your IPAs, and enjoy. Feel free to play with your custom IPA recipes to come up with unique flavors. The secret to enjoying an IPA is brewing with freedom. If you are brewing a fruity IPA, try introducing diverse fruit flavors to see how the beer turns out.
Cheers!